Refreshments
Make the time before your trip more enjoyable in the pleasant surroundings of the Rubin Fresh Bistro, located in the space behind the passport control.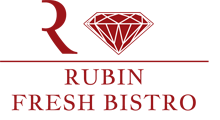 The bistro offers a wide range of sweet and savoury pastries, alongside classic and baked baguettes and panini. Excellent desserts of their own production are a gem, and there is a wide selectionr of hot and cold drinks on offer, too.
You can also please your loved ones with small gifts from your travels in the form of meat delicacies, goose pâtés or other goodies, which are carefully vacuum-packed and come from first-class Czech producers.